Firefox Add-On Allows Users to Experience Chinese Internet Censorship
Anyone who has followed OpenNet Initiative's research or even the mainstream media knows it's no secret that China filters the Internet. China has made headlines time and again for its pervasive policies toward censorship.
In 2006, Nart Villeneuve of ONI partner institution Citizen Lab (at the Munk Centre of University of Toronto) created a side by side comparison of Google.com and Google.cn. This comparison allows users to see the differences in a basic search on Google's US and China servers. In the image below, one can view the differences in a search for "falun," a popular spiritual practice in China, the practitioners of which face persecution. The Chinese government has admitted to filtering this search term. The screen capture below demonstrates Villeneuve's tool: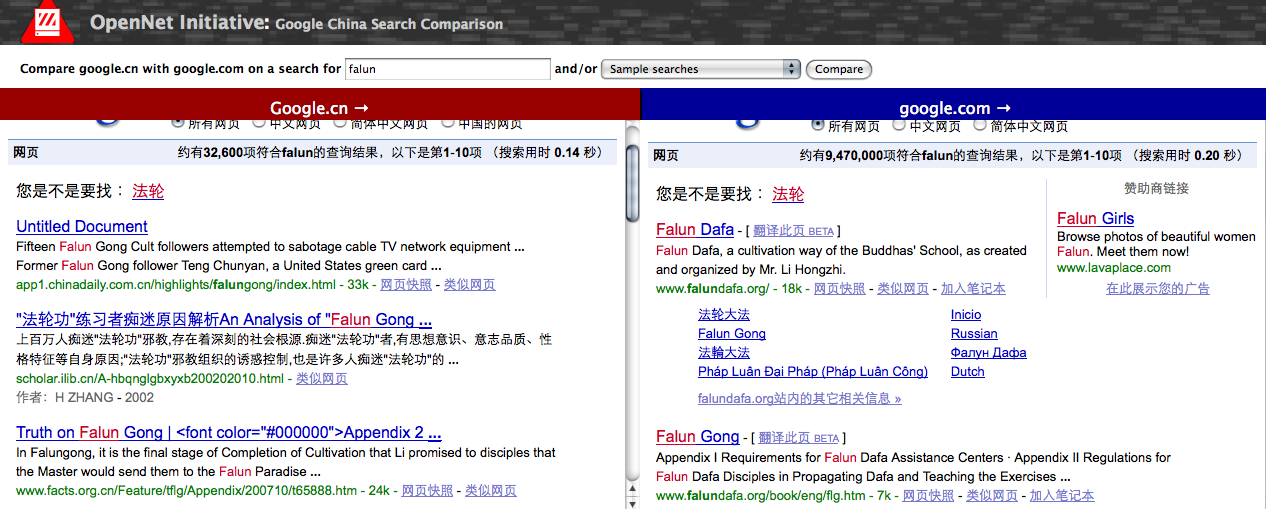 Now, a new Firefox add-on allows users to easily experience life behind the Great Firewall. China Channel, created by Aram Bartholl, Evan Roth, and Tobias Leingruber, was built with the intent to simply "help lower the technical barrier to surfing the Chinese internet." Bartholl, Roth, and Leingruber built a user interface over a switchproxy, allowing a user without technical skills to surf via open Chinese proxies. The switchproxy runs on proxies that are available on the web, and maintained by China Channel.
The creators admit that China Channel has flaws. For example, the connection to the proxy is in plain text, which means that requests that contain keywords are filtered on the way to the proxy. One example of this is that in China, you can search for "falun" in the Chinese versions of Google or Yahoo!, whereas using China Channel you cannot.
In an e-mail, Bartholl admitted that the results from China Channel are not identical to those within China, and that the team is working on the encryption. But Bartholl explains that the tool is by no means intended to replicate the Great Firewall exactly, rather, the intent is to provide a tool for "regular people" to experience life on the Chinese Internet.
As for inspiration for the project? The team states that they were inspired by several projects and wanted to build a tool to draw more attention to this important topic. Bartholl states that, "It is not only about China. Many countries [practice] filtering in different degrees and ways. There is not just one global internet."
Special thanks to Nart Villeneuve.