Algeria joins the Internet censors club
Algeria joins an increasingly expanding list of government Internet censors in the Middle East and North Africa. ONI's in-country tests conducted January 1, 2010 verified that access to the the Web site of the Algerian political movement Rachad (www.rachad.org) has been banned in Algeria. Access to the movement's Internet TV channel (tv.rachad.org) and discussion forum (forum.rachad.org) were also found to be inaccessible.
This political filtering is not transparent; users do not get an explicit blockpage, but rather an error message. See screenshot below: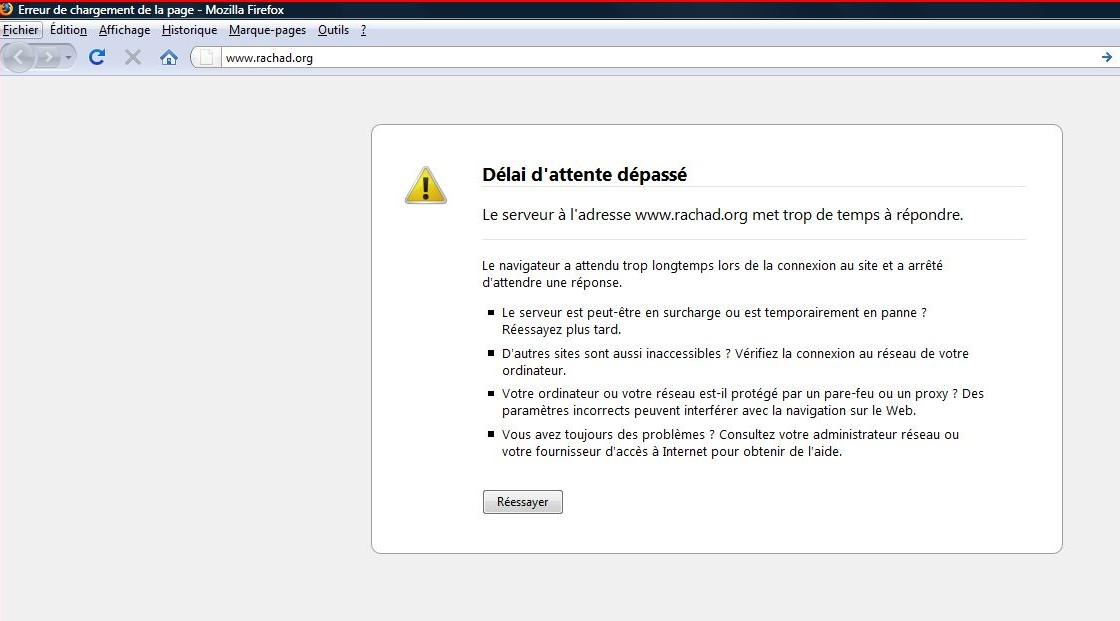 The blocking which was first reported by Le Quotidien d'Algérie in January 1, 2010, is the first known technical filtering documented by ONI.
ONI's research on Internet filtering in the Middle East and North Africa which was published in August 2009 concluded that there was no evidence of technical Internet filtering in Algeria.
The country's profile however reported that, "[a]lthough Algeria does not at present filter Internet content, legislation that criminalizes peaceful criticism of the government and requires ISPs to police online content, together with a highly centralized network, could facilitate the filtering of online content in the future."
The blocking of the Rachad Movement Web site comes few weeks after the Algeria Minister of Post and Information and Communication Technologies Hamid Bessalah described a government-proposed central filtration regime as a gateway to monitor the flow of information in and out of Algeria. Online writers have in the past few months expressed concerns that the Algerian authorities are introducing regulations that could curb the freedom of speech online.